After many failures I have finally managed to get accepted ten letter length word and the word ranking "Squeaktastico" From Alpha Betty Saga. I have got many ten letter lenght words, but t says they are unacceptable (They are actually acceptable really). The word I used to get this ranking was ===KASVATUSTA=== (A Finnish word of ===UPBRINGING===)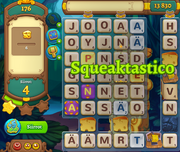 Ad blocker interference detected!
Wikia is a free-to-use site that makes money from advertising. We have a modified experience for viewers using ad blockers

Wikia is not accessible if you've made further modifications. Remove the custom ad blocker rule(s) and the page will load as expected.